Governance refers to the internal process by which policy is set and decision making is executed by the company's executives and managerial levels.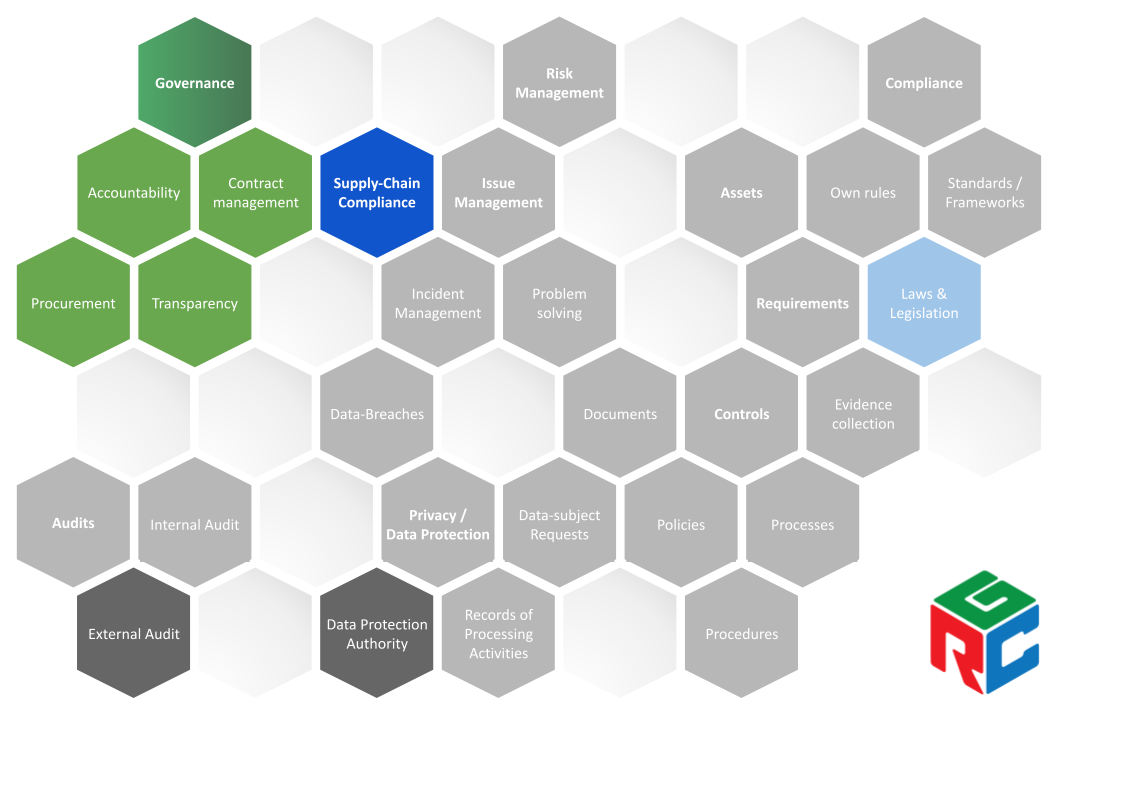 GRC-Boxx contains a best-of-breed Risk Management process:
Anyone within the organisation can identify and report a risk
Risk managers are notified to assess and classify the risk and decide on its mitigation
Relevant controls can be created and implemented
Tasks and actions can be linked
Risks are reviewed until considered and marked as managed.
GRC-Boxx facilitates Incident registration and orchestration of follow-up actions.
Anyone within the organisation can identify and report an incident
Incident managers are notified to assess and classify the incident and decide on follow-up steps
Incident resolution is a customised process by the organisation that can be applied per type of incident (data breach, security incident, calamity/disaster)
Tasks and actions can be linked
Risk Management is an organisation's ability to effectively and cost-efficiently mitigate risks that can hinder an organisation's operations or ability to remain competitive.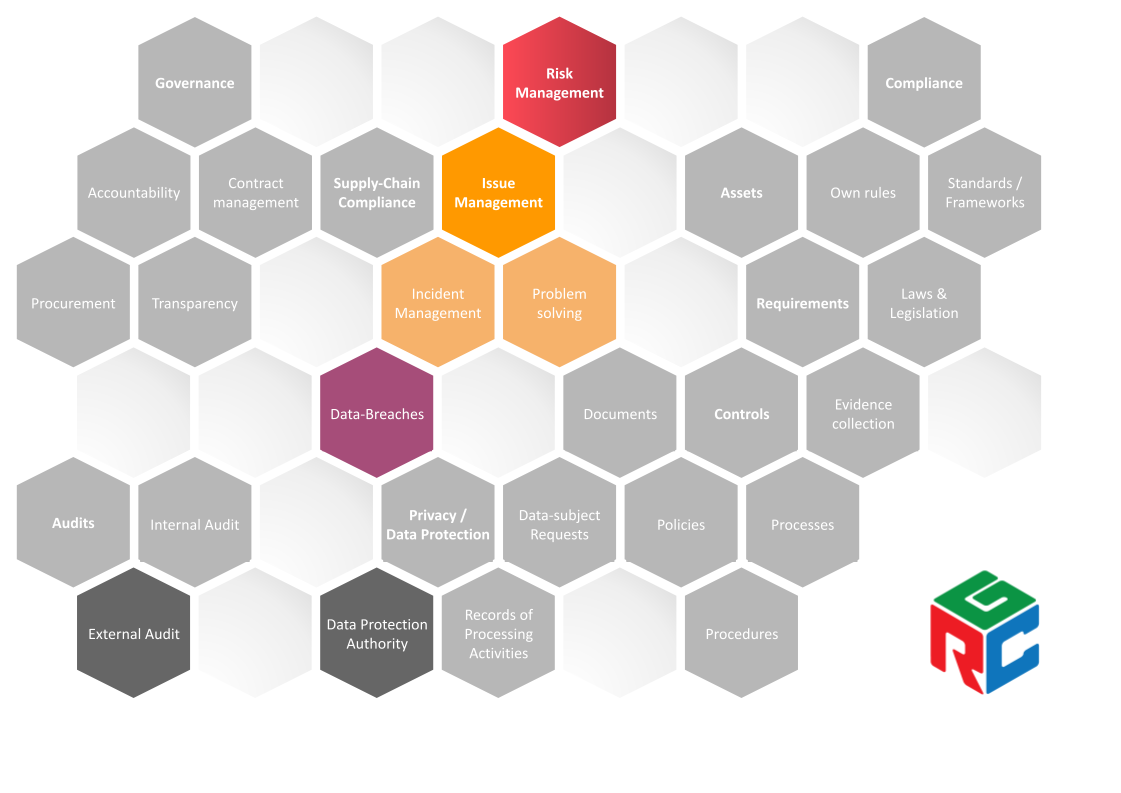 Compliance refers to the process of adherence to policies and decisions. Policies can be derived from internal directives, procedures and requirements, or external laws, regulations, standards and agreements.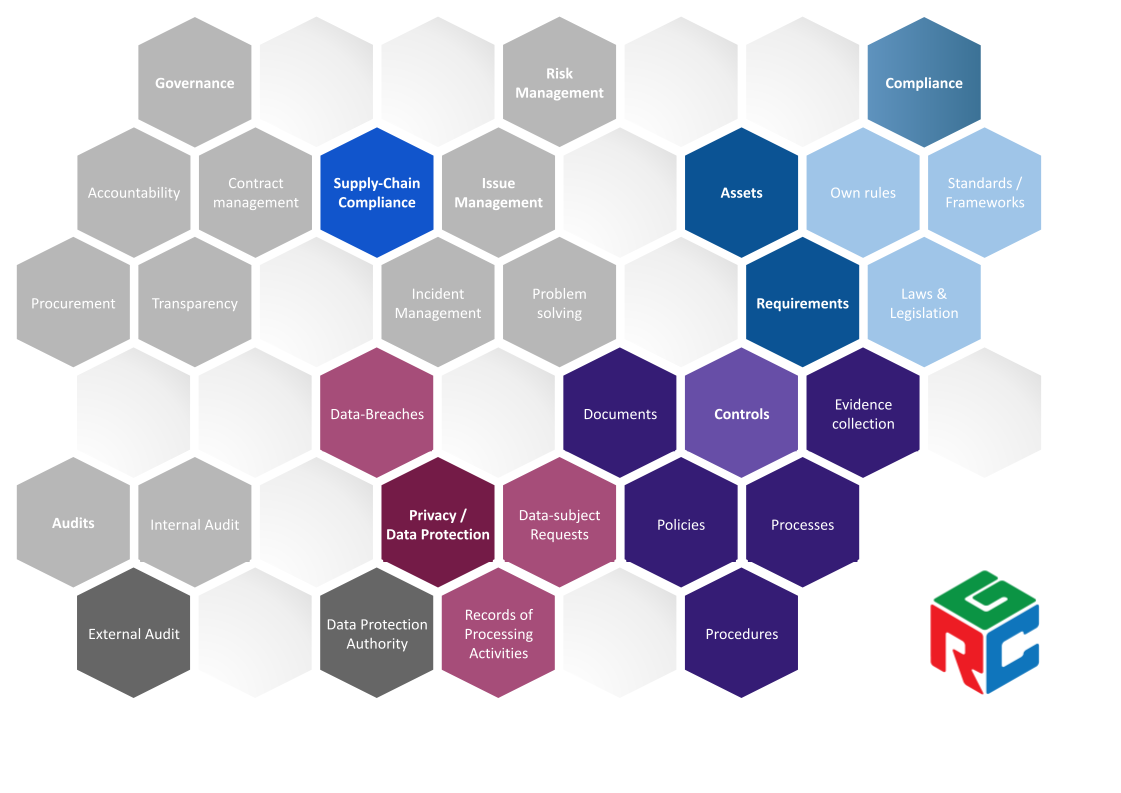 GRC-Boxx supports both internal and external audits.
Audit items' findings, recommendations, and judgements can be recorded and in case a non-conformity has been found, corrective actions can be started and monitored until their completion, when a re-audit can be performed.
Internal audits can be performed within an organisation to verify the efficiency of own adopted procedures and check for possible shortcomings, ensuring compliance with laws and regulations and standards in a more casual environment and with lower stakes.
GRC-Boxx audits can be created for:
Requirements of a standard (all or a selection thereof)
Controls (all or a selection thereof)
Assets
Evidence items, such as testing a process against all applicable requirements
External audits (also known as third-party audits) are performed by impartial auditors and can be called objective assessments of organisational procedures and provide transparency and confidence to interested parties that your organisation is truly running an effective and compliant management system.
External auditors can be invited to an organisation's GRC-Boxx and be given rights to a specific audit and all related evidence. It is also possible to grant rights for continuous auditing to an external auditor, thus not relying on their on-site presence for the audit.
An audit provides credibility to an organisation's compliance statements. This is done to ensure sufficient compliance with requirements and to track and improve the efficiency of your operational processes.